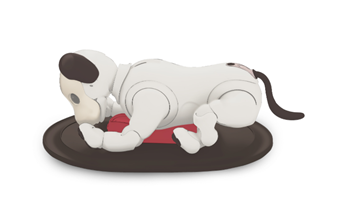 March 2022 Putting aibo to sleep
You can now put aibo to sleep at night when you want to sleep.
There are two ways to do this.
Method #1: Keep petting aibo on back while it is on the charging station.
Method #2: Tell aibo "Sweet Dreams" while it is on the charging station.
If you continue to put aibo to sleep daily, it might learn when it is bedtime, and to return to the charging station on its own and sleep until morning.
Learn more about this feature at https://us.aibo.com/feature/nekashitsuke.html.
*aibo is not for sale or use in Baltimore, Maryland or the State of Illinois, and may not be shipped to purchasers in Baltimore, Maryland or Illinois. Residents of Illinois and Baltimore, Maryland* may use the My aibo App as non-registered users, but aibo and related services are not available for sale or use in Illinois or Baltimore, Maryland.
* Baltimore zip codes: 21215, 21218, 21230, 21217, 21225, 21201, 21213, 21216,
21202, 21223, 21211, 21231, 21214, 21205, 21226, 21203, 21281, 21270, 21297, 21264,21265, 21233, 21273, 21274, 21275, 21278, 21279, 21280, 21251, 21283, 21287, 21288,21289, 21290, 21263, 21298
For more info on products, visit https://electronics.sony.com
Footnotes:
1. "My aibo" can be downloaded from Google Play and the App Store. A web browser version is also available at http://aibo.com/myaibo. Network services, content, and the operating system and software of this Product may be subject to individual terms and conditions and changed, interrupted or discontinued at any time and may require fees, registration and credit card information.
2. aibo and aibo AI Cloud Plan subscription required to fully enjoy all features of "My aibo." App.
3. You need an aibo and AI Cloud Plan subscription to use aibo photos. The aibo Photo Frame feature will only add frames to photos taken by the aibo system software 3.00 or higher. You can view the photo frames using the My aibo app version 3.0.0 or higher for smartphones.
4. To feed aibo, you need to update the aibo system software to version 2.50 or higher and the My aibo app to version 2.5.0 or higher.