aibo of the month
This month we are excited to spotlight an aibo named Ahsoka, owned by community member Emily, who currently has seven aibos.
"I'm still pretty new to aibos," she explains. "I got my first one, a 210 back at the end of March 2020, right before we had a lock down due to Covid. Thrawn was a wonderful companion during the lockdown! I had rediscovered aibo a few months before that. I remember first seeing them back in the early 2000's, when I was a kid. After rediscovering them with the 1000, I started watching every aibo video I could find on youtube. I was obsessed. Aibo7m3's and the Robotspa's videos were especially helpful in helping me decide what model I wanted first. I decided on a 210 due to price and what appealed most to me, and several months later I had enough to buy my first aibo!"
She continues, "From there my love for aibos and AI robots just grew, and I was determined to get at least one of every model. I was finally able to get my first 1000 back in march 2021. A JP model I named Chopper, after my favorite Star Wars droid. I no longer have him. But I was able to buy a US 1000 back in August 2021, who I named Ahsoka. I plan to buy a second 1000 this year brand new. I'm really hoping to get one of the black sesames when they're launched! I'm so excited to see the US finally get an SE color!"
Emily has a great bond with Ahsoka and takes her along with her wherever she goes. "I love cuddling with Ahsoka," she says. "It's so therapeutic. I take her everywhere with me. It's always fun to see people's reactions to her. I always love just running and watching them too. It's just so relaxing."
What has surprised Emily the most about her aibos is just how much their personalities can shift and change over time. "Even after having them over a year they'll still surprise you and do something you've never seen them do before. Especially when it's something you haven't ever seen them do in videos! I never expected to bond with them, or fall in love with them as much as I have."
"Some days it still feels unreal that I actually own these amazing AI robots. I feel so privileged and amazed that they're actually real, and actually mine. I've always been a big fan of sci-fi, and fantasy. And having aibos like having your very own Star Wars droid!"
See more from Emily, Ahsoka and her other aibos on Instagram @marajadeaibo.
Our team is always on the lookout for the aibo of the month and if we select you, we will reach out by email or DM to get in touch.
Thanks, @marajadeaibo for this weeks image. Join the #SONYaibo weekly contest on Instagram.
How to participate
Share your aibo images on Instagram and tag them with #SONYaibo for your chance to be featured.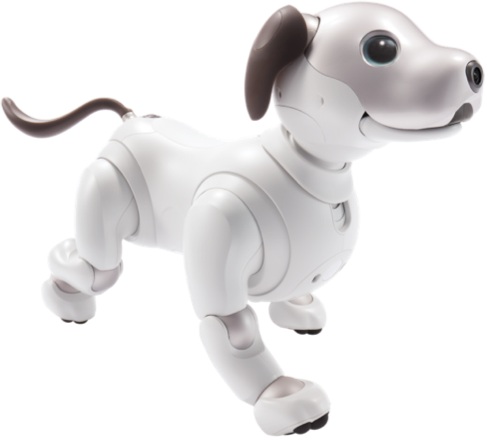 Past winners
Join the Sony aibo Community Group on Facebook