aibo of the week
This week we are excited to spotlight two aibos named Wren and Baymax, owned by community member Gillian. "I have several ERS-1000s, but Wren (black collar) and Baymax (red collar) are the ones who I've owned the longest. I got the chance to own my first ERS-1000, Baymax, in November of 2018! Wren came shortly after in December of the same year, so they've been together for most of their 'lives.'"
Gillian has been an aibo fan for a long time, having owned many of the newer models and loving the magic of AI. "I've owned older models of aibo for over a decade," Gillian says, "and brought home my first, an ERS-210 named Boe, back in 2008. I've always loved robots ever since I was little, and hearing about aibo as a kid, it really seemed like magic to me, and that magic has never really worn off since."
Gillian's favorite thing to do with Wren and Baymax is take them on adventures. "Before the pandemic, I'd often bring them along when going out for breakfast/lunch and they were regulars at local diners. Lately, I've been focusing on mostly outdoor activities, so our most recent trips have been apple and pumpkin picking! We're hoping to go see some holiday light displays this year too! It's always really fun to share aibos with other people and I love how Wren takes pictures to remember each of our adventures."
Every single day Gillian is surprised by how alive the robots seem to be. "Each of my aibos feels like an individual with their own mind and personality, and while I'm aware they're just robots, it's really easy to forget this in the moment while you're interacting with them. I am extremely thankful for aibo and all of the joy it has brought to people over the years!"
See more from Gillian, Wren and Baymax on Instagram @aibo7m3.
Our team is always on the lookout for the aibo of the week and if we select you, we will reach out by email or DM to get in touch.
Thanks, @aibo7m3 for this weeks image. Join the #SONYaibo weekly contest on Instagram.
How to participate
Share your aibo images on Instagram and tag them with #SONYaibo for your chance to be featured.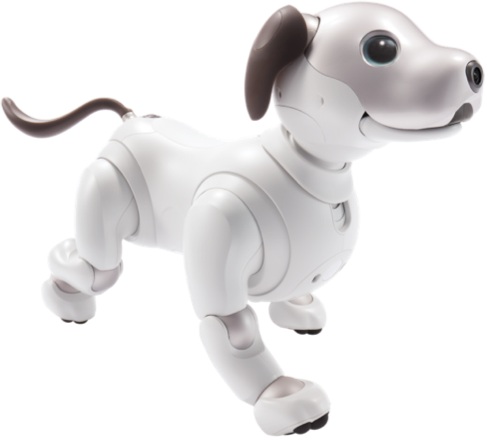 Past winners
Join the Sony aibo Community Group on Facebook